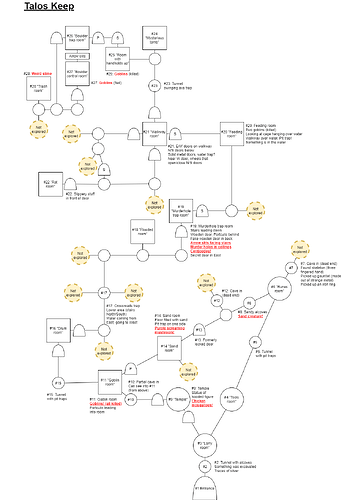 List of maps
World Map - Session 37
Ravine Map - Session 13
Ravine Caves 1+2 (Goblins, Ogre) - Session 5
Ravine Cave 3 (Red goblins) - Session 13
Ravine Cave 5 (Cult) - Session 20
Ravine Cave 5 (Cult, downstairs) - Session 15
Ravine Cave 7 (Minotaur) - Session 8
Yarins Tomb - Session 12
Dungeon in the forest - Sesson 17
The Hill - Session 27
The Hill - Bat Cave - Session 23
The Hill - Monastery Grounds - Session 27
The Hill - Monastery Interior - Session 27
Eagle Mountain - Session 29
Eagle Mountain - Snake Lake - Session 31
Lake Flake - Underwater Tomb - Session 33
Talos Keep - Session 40: See above
List of of sessions
Sessions 1 - 20
| # | When | Location | Encounters / Events | XP |
| --- | --- | --- | --- | --- |
| 21 | 15.01.23 | The Hill, Monastery grounds | Raft building; Centipedes, Skeletons | 102 |
| 22 | 25.01.23 | The Hill | Goblin War! | 32 |
| 23 | 03.02.23 | The Hill, Bat Cave | Boring cave, Hobgoblin zombie | 89 |
| 24 | 16.02.23 | The Hill, Monastery | Magic fountain, Inside of the monastery | 149 |
| 25 | 23.02.23 | The Hill, Monastery | (Cont.) Inside of the monastery | 76 |
| 26 | 09.03.23 | The Hill, Monastery, Graveyard | Night patrol, Undead | 59 |
| 27 | 14.03.23 | The Hill, Monastery, Graveyard | Felonies: Grave robbery, Theft, Arson, Animal cruelty | 66 |
| 28 | 21.03.23 | The Hill, Monastery | Random encounters galore | 22 |
| 29 | 29.03.23 | Eagle Mountain | Kidnapped by eagles, Escaping the mountain | 123 |
| 30 | 12.04.23 | Eagle Mountain, Snake island | Snakes and Fire | 33 |
| 31 | 19.04.23 | Eagle Mountain, Snake island | (Cont.) Dungeon under snake island | H to decide |
| 32 | 26.04.23 | Eagle Mountain, Snake island | Pale dwarves | 36 |
| 33 | 03.05.23 | Flake Lake, Underwater Tomb | Fred the faerie, Nixies, Mummies | 238 |
| 34 | 09.05.23 | Town "Kestria" | Selling many things; Discovery of the "2nd moon"; Map of Talos keep | 0 |
| 35 | 28.05.23 | Village "Moonrise" | "Witches" standing stones, Banished monster | 87 |
| 36 | 01.06.23 | Traveling from "Moonrise" to the keep | Slaver wizard, Nixies, Centaurs | 32 |
| 37 | 08.06.23 | Talos Keep | Meeting the castellan (at our Keep), Sand monster, Pit traps, Old temple | 34 |
| 38 | 16.06.23 | Talos Keep | Underground river(?), Murderhole trap, Creature in water | 8 |
| 39 | 21.06.23 | Talos Keep | Goblins, Rats, Debbie lost | H to decide |
| 40 | 02.07.23 | Talos Keep | Guest DM, Tomb of dwarven hero, Boulder trap room | 133 |
List of treasures we haven't dealt with yet
| Session # | Treasure | Best found selling price | Current holder(s) | Recipient(s) | Notes |
| --- | --- | --- | --- | --- | --- |
| 31 | 1 shiny gemstone | None so far | Chylli | irx, Chylli, cwebb, PH, alrik, s_journ | Magical |
| 33 | Dagger | 75 GP | cwebb | irx, Chylli, cwebb, PH, Violet_Red | |
| 33 | Golden ring/bracelet | None so far | PH | irx, Chylli, cwebb, PH, Violet_Red | Magical |
| 33 | Necklace (silver, blue stones) [-1 stone) | 500 GP | irx | irx [+25 GP], Chylli [+25 GP], cwebb [+25 GP], PH [+25 GP], Violet_Red [-100 GP] | |
| 35 | Aris' ruby ring | None so far | irx | irx, Chylli, cwebb, PH, alrik, s_journ, hardvark, Violet_Red, Gandohar (+2 buddies) | Magical; Can reverse petrification |
MASSIVE thanks to Mr. Darth Binks for taking time out of his recovery Sunday to guest-DM a wicked cool puzzle room for us! That was awesome.
Truly a rock star among DMs.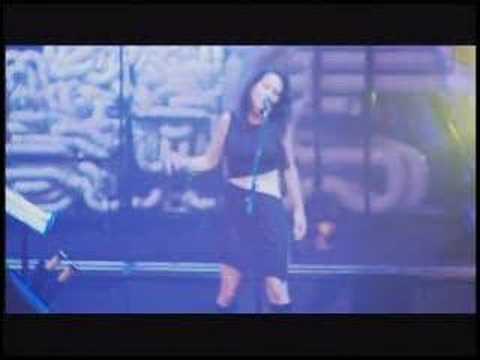 Good taste in music

(Assuming Mexikorn's referring to DM or Tracy …)
133 xp for everybody who played this one and lived (or died) to tell the tale.
See you!

I wish all characters lots of fun with the ancient dwarven cookbook
thanks again for having me

You're always welcome.

And considering that the events form your guest stint saved the characters' bacon last night when the wolves began to howl, I'm sure the players will agree …
Take it easy!