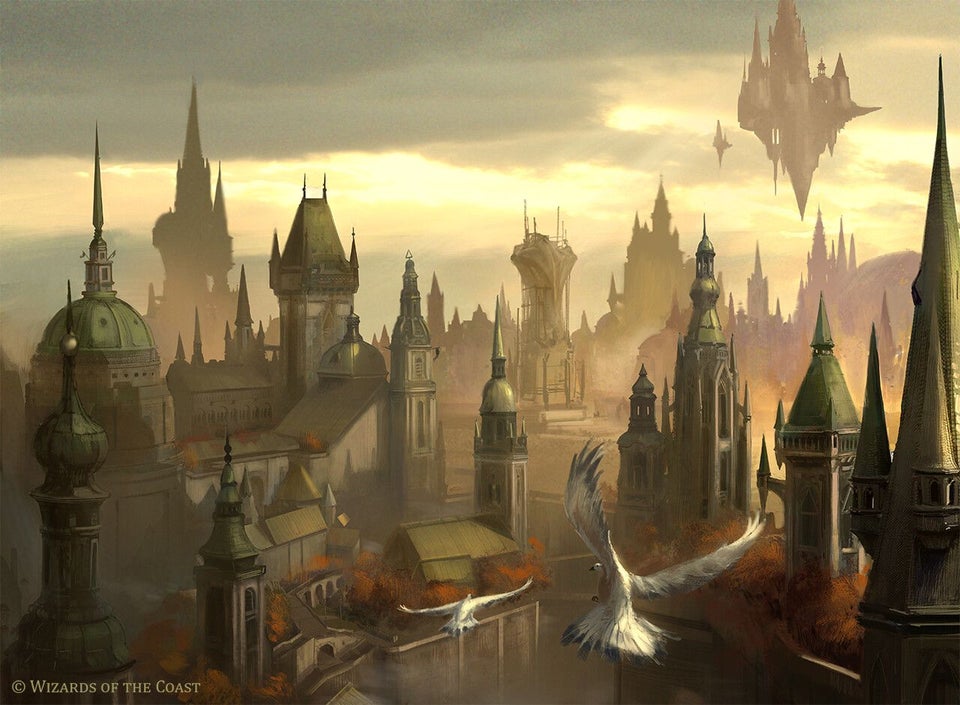 The V.A.L.U.E. of Ravnica
Styles: urban-adventure, investigation, exploration, intrigue
Ravnica is an ecumenopolis - t.m. the whole world is a single city (e.g. like Coruscant in Star Wars), that draws inspirations from a late-medieval Prague. It is divided in countless of Districts and those further in Precincts.
Ravnica is ruled by 10 Guilds, who swore a mystic "Guildpact" over 10000 years ago, to stop an epic civil war. The fragile peace held till now, with a short exception 75 till 50 years ago.
The Guilds are all more or less structured hierachially and - at least in theory - of a centralized organizational structure. The Disctricts and Precincts instead are controlled on a local level in a sort of pseudo-feudal hierachy of civil servants.
Since the forging of the "Guildpact" Ravnica is in an "Age of Enlightment" … the concept of nobility is known only to those who study history and paladins & clerics gain their spells from "channeling the Guildpact" (they basically worship the philosophy of their respective Guild) instead of worshiping a god.
Half of the population, "the Guildless", do not belong to any Guild, and form the underclass. Those can be found less in the central and more likely in the more rural/suburban areas of a District.
Many "Guildless" are also critical of the 10 Guilds.
The 10th Disctrict, where the adventures will take place, is located at the 50th parallel north and is shaped by a continental climate … also because all the oceans of Ravnica have been covered with city-structures. Since urban areas can heat up pretty well, it could be warmer then one might expect, especially in the summer.
(note: The climate can be compaired to modern continental central-europe)
P.S.: for the nerds … the adventures are set in the Return to Ravnica timeline