Hey I want to run an Oneshot set in the city of Itra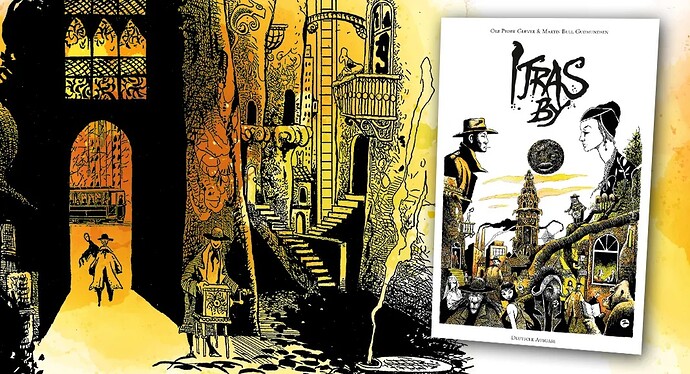 Itras By ( : Itra's city) is a surreal roleplaying game set in a city reminiscent of Europe in the 1920's. The system is card based and focuses on freeform and improvisation.
The City
In the city center, reality is relatively stable, but the further afield you get, the more it deteriorates, mutates, becomes dream-like. In Itras By you'll find dreams which have become real, an outline of a city divided by class, sea elephants, a gentleman with a monster in his basement, the structural cancer that haunts some of the city's buildings, and more.
The System
The rule system is very simple. Itras By uses Resolution Cards, and additionally features a Chance Card system.
The Resolution Cards have texts like "Yes, but…", "No, and…", "Yes, and…" etc. The results are interpreted by a different player.

The Chance Cards can be drawn once per session by each player, and serve to infuse the game with a surrealist touch. An example:
Cut Scene: Jump forward three hours. Describe what conditions the characters find themselves in. You're not allowed to describe what has happened in the meantime.