As AL basically assumes the people know what has been going on i'll do a short summary of what happened so far in our CoS run and add some important information whenever i think of it

Session 1:
The group found itself in Barovia, the fog led you to a house, with 2 children standing in front of it asking for help getting rid of the monster in the cellar.
You did a thorough investigation of the houses interior, found a couple of interesting things (deed to a windmill, letter from strahd to the owner of the house), then encountered the ghosts of the children you met outside, they've been dead for rather long and showed you (in their dollhouse) where the stairway to the cellar is situated.
After exploring the cellar for a bit (finding another stairway up to the groundfloor) you found a ritual chamber, where you defeated a shambling mound, but not before losing one of your companions to a devil that showed up after your wizard tried to summon a demon.
With the shambling mound dead it looked like the house calmed down for a minute, but then the shit started hitting the fan and rooms were filling with some poisonous gas, while the doorways where blocked by spinning blades.
You decided to break down walls and made your way to the exit and finally escaped this death trap.
Session 2:
After exiting the Death House you found yourself in the streets of the Village of Barovia. You saw a couple of people watching you from the windows of their home, while making your way towards the tavern - during that march you heard wailing coming from somewhere in the town.
In the tavern you met a young man asking you for help escorting his sister to a nearby town to protect her from the advances of Count Strahd. He asks you to come to the burgomasters mansion once you're ready to help.
Before going there you decided to figure out what this wailing was all about, you entered the house the noise was coming from and encountered a woman mourning her child. She told you that her daughter has left the house for the first time ever and hasn't come back.
Outside you saw an old woman selling meat pies, exchanging a young boy against a couple of her merchandise. Your parties wizard decided to buy all the pies and confront her about the kid. She wasn't too amused, did something strange and you lost sight of her.
You went to the church next where you heard some loud noises from the cellar. The local priest told you that his son was hungry and that he could use your help feeding him.
It turned out that son was a vampire spawn who started to drain your wizard, but left you alone after a couple of sips at the priests command. After this disturbing enocunter you decided to go to the burgomaster's mansion.
Session 3:
Taking a look around you noticed tracks of barefooted humanoids and wolfs all around the house, you also noticed a strange herb spread all around the house to.
You knocked on the door and were greeted by Ismark - the young man that asked you for help in the tavern - and his sister Ireena. After a short discussion and being told a bit about what was happening to them, you went to sleep so you could make the journey to Valaki at the morrow.
During the night some unseen horrors attacked the mansions perimeter and kept some of you awake.
In the morning you left Barovia heading towards Vallaki. On the way you found a camp of Vistani. They greeted you very friendly and told you that Madam Eva has been expecting you. The old woman knew each and every one of you by name and read you your fortune.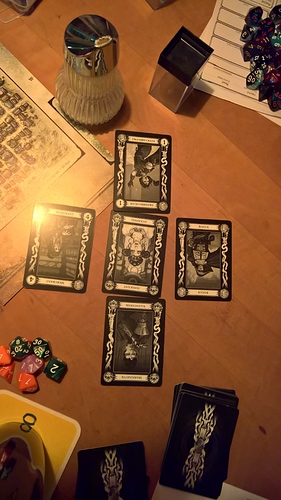 Flipping over the 1st card:
This card tells of history. Knowledge of the ancient will help you better understand your enemy. Seek a cask that once contained the finest wine, of which not a drop remains.
Flipping over the 2nd card:
This card tells of a powerful force for good and protection, a holy symbol of great hope. I see the skeleton of a deadly warrior, lying on a bed of stone flanked by gargoyles.
Flipping over the 3rd card:
This is a card of power and strength. It tells of a weapon of vengeance: a sword of sunlight. I see a nest of ravens. There you will find the prize.
Flipping over the 4th card:
This card sheds light on one who will help you greatly in the battle against darkness. What horror is this? I see a man made by a man. Ageless and alone, it haunts the towers of the castle.
Flipping over the last card:
Your enemy is a creature of darkness, whose powers are beyond mortality. This card will lead you to him. He dwells with the one whose blood sealed his doom, a brother of light snuffed out too soon.
After reading the cards for you she also told you that her brethren near Vallaki don't like her too much.
After a short discussion wether you wanted to stay with the Vistani until tomorrow or try to reach Vallaki today you continued your journey.
You had some fun crossing a rather huge stone bridge flanked by tons of gargoyles (none of which were anything but statues).
Then you finally reached a Gate of Barovia, which closed behind you after passing through.
Getting further down the road to Vallaki you saw a Windmill atop a hill and decided to check it out, because you remembered the old woman taking the kid in Barovia supposedely lives in a windmill.
First you realized a raven was trying to warn you away from the Windmill after which you decided to take a look around. You found 4 stone monoliths, that where circled by more ravens. On top of one of the monoliths you found a meat pie, whlie between them you found a huge pile of children's teeth.
Deciding to confront the woman in the windmill you entered. Rummaging through the ground floor you found a couple of strange potions. A golden syrupy emitting a sweet smell labeled "Youth", a redish liquid without any smell to it labeled "Laughter" and a greenish milky liquid with a rancid smell labeled "Mother's Milk".
Shouting for the woman you talked to her for a bit when one of you decided to attack her. Turns out she was a Nighthag and she kicked your butts, but only decided to scare you of instead of killing any of you.
You did manage to reach Vallaki afterwards at least. You brought Ireena to the local church, which upon entering made all of you feel way better. Afterwards you split for a bit, most of you went to the Vistani camp right outside of Vallaki, where you got told a bit about the 3 potions you found in the hag's windmill. You also where told that the Vistani leader's daughter was abducted - for which he punished a young man who supposedly slept off his intoxication instead of fulfilling his guard duty.
The other member of your party went in search of the guard's captain to tell them about the hag and her windmill. He found him ordering around his guards to switch out some proclamations about an upcoming festival.
Afterwards all of you went to the local inn.