Hello everyone! We're a few months late, but still in the right YEAR to celebrate 5 years of the RPG Vienna forum, as well as 5 years of gaming at Spielbar. 5 years ago, @Neil built this forum for one small group of gamers to communicate with each other. Shortly thereafter, @H and @Simon instituted the tradition of Thursday night gaming at Spielbar. In the years since, the forum has grown to 200 members, some of whom only use it occasionally, some experienced veterans who new groups to game with, some complete newbies who think this Dungeons & Dragons thing sounds pretty nifty. We've had an annual tournament, we've grown and shrank and grown again, as people find us, drift away, and rejoin when they realize that awful aching emptiness that comes from not playing some form of RPG.

Most importantly, we have become a stable and lasting community, and this should be commemorated.
In honor of the occasion, we are offering t-shirts on sale using the designs created by our resident graphic designer @Pjotr and directed and approved by the Forum's Founder, @Neil. The t-shirts will cost approximately 16€ (if we get enough orders, the price will go down). I assure you that no one is making a profit on this, I am merely distributing your order, the t-shirts are priced at cost.
I thought we could celebrate the first or second Thursday in December, before everyone goes off for Christmas. Distribute t-shirts, raise a cup of punch to our founders, and roll dice every which way. Speaking of which, @Neil as the forum founder will get a free t-shirt, as will our Spielbar night founders @H and @Simon. We can present them with their honorary t-shirts when we hand out everyone else's. And let's remember to thank @Pjotr who donated his time and skill for the low low price of a t-shirt of his own.
Please either post your interest here, or send me a PM. T-shirts are available in the following options. Please give me style, size, & color in your order, and if you have a special request (larger, smaller, you only wear v-necks, etc.) please let me know. Special requests may cost a couple extra €€, as we would be deviating from the 2 shirts we picked out.
Men's, XS to 3XL
Women's XS to 2XL
Black or White (both will have the designs in red)
NEIL EDIT: Thanks @Pjotr for the mockup!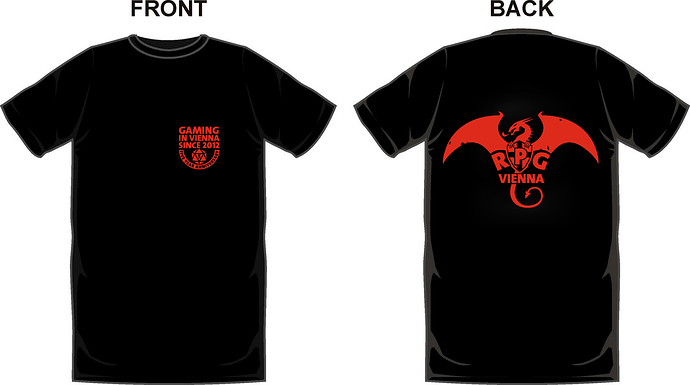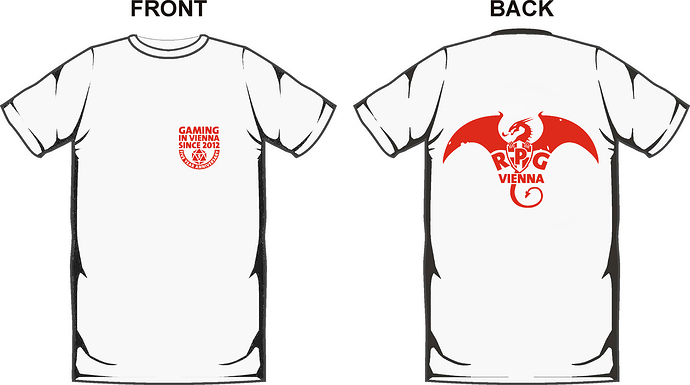 Ladies, gentlemen, etc., this is a way to show your support for our special community. AND it gives you a REALLY cool t-shirt.