I don't know if we have any Eberron aficionados and aficionadas here, but if we do: I made a not-so-little supplement with a dozen sidekicks and NPCs specifically for Eberron!
It is currently rated





and people have been saying nice things about it:
"This is a truly wonderful Sidekicks supplement […]. The writing is witty and insightful with so much useful information and genuinely funny elements, which had me giggling and grinning as I goggled at the gorgeous use of artwork. […] The sidekicks themselves are diverse, fascinating characters."— Curse of Sebs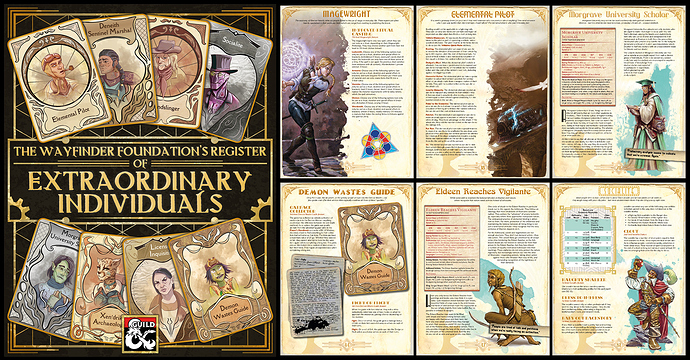 They are split into four different themes:
Eberron Professions
The Elemental Pilot is a cocky ace pilot of elemental airships, elemental galleons, or lightning rails.
The Wandslinger can blast you out of trouble in no time—or start a bit of mayhem on your behalf.
The Magewright is who Khorvaire's economy is built on, with incredibly diverse areas of expertise.
Eberron Factions
The Deneith Sentinel Marshal is the best ally you could hope for trying to capture an elusive target.
The Morgrave University Scholar is a bold academic who can assist you with their exceptional expertise.
The Zilargo Trust Operative probably gives you that mysterious feeling of always being watched…
Eberron Locations
The Xen'drik Archaeologist knows their way around ancient ruins and understands Xen'drik culture.
The Demon Wastes Guide can get you through these fiend-infested wastelands with cheerful madness.
The Eldeen Reaches Vigilante fights the spread of arcane technology in their unique beast forms.
Pulp Noir
The Trouble Magnet never fails to get into trouble—but there are no heroes without someone to rescue!
The Licensed Inquisitive can find anyone for you—if the coin is right or the case is interesting enough.
The Socialite knows their way around high society and fashion and prepares for a party like for a war
It's up on DMs Guild now and I included a discount link for your pleasure: https://www.dmsguild.com/browse.php?discount=9f3d086261&affiliate_id=1108847
As always: if anyone finds themselves in financial hardship, please don't hesitate to contact me with your DMs Guild email and I will provide a free complimentary copy to you!